Puncho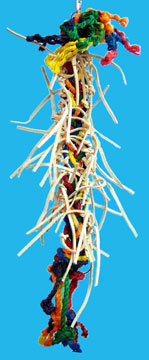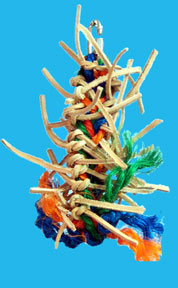 Your preening loving parrot will fall in love with this great toy made for leather crazy birds, in a bright colored sisal rope! Lots of vegetable tanned leather strips woven in with the sisal. Your parrot will go crazy over this leather toy. This toy is excellent for parrots that are FEATHER PICKERS, and with FIVE sizes/lengths, no BIRDIE is left out!
If your feathered family loves Puncho ... also check out Trenza!
Item #: 67029

Size: XL (36" x 7")

Price: $75.00

Item #: 67030

Size: L (26" x 6")

Price: $47.25

Item #: 67031

Size: Med (24" x 6")

Price: $37.50

Item #: 67032

Size: S (12" x 6")

Price: $28.25

Item #: 67033

Size: XS (7" x 4")

Price: $19.00

As with all toys that have rope, sisal, fabric and curly laces, PLEASE be sure to
check the toy daily for frayed edges and keep it (and your parrot's nails) well trimmed.