Tippy
(2 sizes)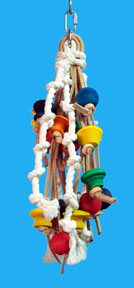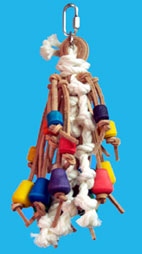 Leather lovers delight, many vegetable tanned leather strips handing from solid "O" ring, colorful wooden pieces tied to each leather strip, 100% cotton rope for added texture, tied by a stretching machine so it's almost impossible to untie. This is also a great toy for those over preening or feather picking parrots in the house!

As with all toys that have rope, sisal, fabric and curly laces, PLEASE be sure to
check the toy daily for frayed edges and keep it (and your parrot's nails) well trimmed.

Item #: 67120

Size: Med (14" x 6")

Price: $34.50

Item #: 67121

Size: Small (10" x 4")

Price: $26.25