Trenza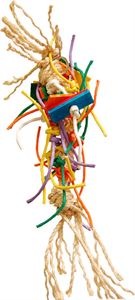 The Trenza was designed for those knot loving birds in your life. The center of the Trenza is all knotted, natural sisal that has colorful, paper rope braided in with lots of knots. A few of the paper rope arms have colorful, chewable, soft wooden slats for even more beak please fun! The is an "O" ring and nickel plated quick link braided into the top of the cord for easy placement in your cage or playstand. If you have a bird that is a bit of a worrier, over preens or likes to have things lay on their back, this is for you. Designed for the medium to larger sized beaks in your life!
If your feathered family loves Trenza ... also check out Puncho!
Item #: 67387

Size: One Size (24" x 7")

Price: $31.50

As with all toys that have rope, sisal, fabric and curly laces, PLEASE be sure to
check the toy daily for frayed edges and keep it (and your parrot's nails) well trimmed.