Bongo Twist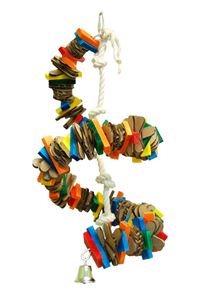 A perch, a boing, a shredding delight ... that is the Bongo Twist! The coiled center can be stretched or twisted to fit your needs. Wish we would take a better photo but there is lots of colorful, wooden slats separated by corrugated cardboard strips. There's a 100% cotton rope that hangs inside ... and a quick link on top for easy hanging. Perfect for the smaller to mid sized birds in your house.
Item #: 67393

Size: One Size (13" x 7")

Price: $30.00
As with all toys, please monitor your pets and make sure they don't actually consume non-edibles!
If your FID tends to be mechanical, please remove the clapper before giving to your avian family!