Cherry on the Bottom
(built on Stainless Steel)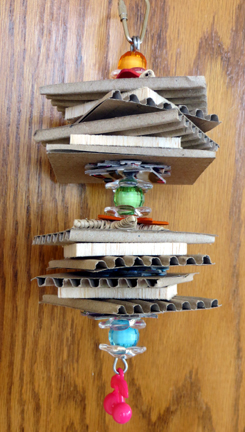 Cherry on the Bottom is sort of smaller version of our very popular Dagwood (which is built on a stainless steel skewer). This toy is built on stainless steel wire, and has lots of layers of chewable goodies like balsa, corrugated cardboard, woven stars. There are some very durable bead in beads and petals on the toy along with a dangling "Cherry on the Bottom"! A bright, cheery, fun addition to your smaller to mid sized parrots house with lots of chewing texture! Topped with a a nickel plated pear shaped quick link on top for easy hanging.
Item #: 32061
Size: One Size (approx 9.5" Long x 3" Wide)
Price: $8.25
Note: Each toy is individually handmade in the USA, colors, styles, beads and charms may vary from photograph.
As with all toys, please monitor your pets and make sure they don't actually consume non-edibles!