Creature Playtime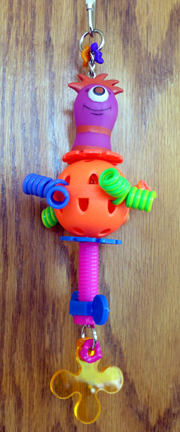 A bright, cheery, fun addition to your smaller to mid sized parrots house! The Creature Playtime is strung on nickel plated welded chain, has a rubber monster head on top, a couple of flower wheels on top and bottom of the golf ball whiffle type ball, with some fun squiggles for added beaking fun. There's a nut & bolt on the bottom along with a couple ruffled beads (on top and bottom "O" rings) plus an acrylic dangling shape for added interest. Topped with a a nickel plated pear shaped quick link on top for easy hanging. The whiffle ball can be stuffed with shredded paper and you can add some extra goodies to encourage foraging behavior. Lots of motion, color and fun is waiting for your parrot and Creature Playtime!
Item #: 32061
Size: One Size (approx 9.5" Long x 3" Wide)
Price: $6.75
Note: Each toy is individually handmade in the USA, colors, styles, beads and charms may vary from photograph.
As with all toys, please monitor your pets and make sure they don't actually consume non-edibles!