The Dagwood
(built on a Stainless Steel Skewer)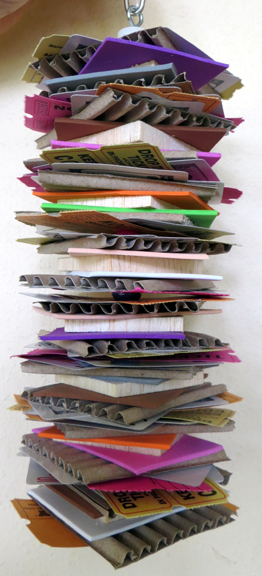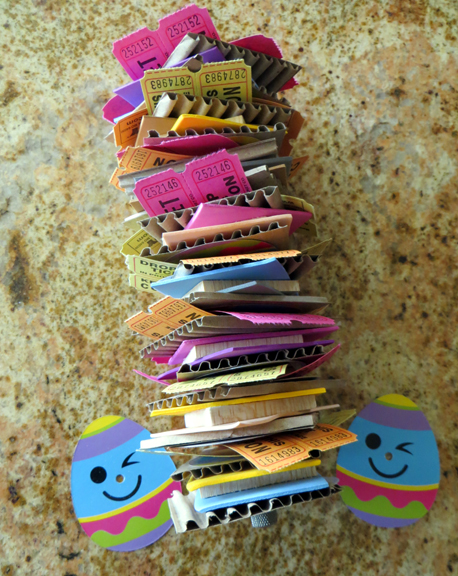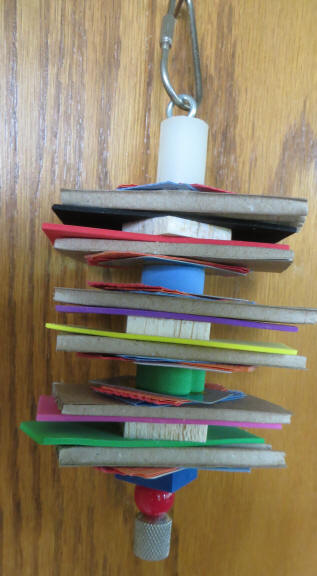 This toy was created for our Greater Sulphur Crested Cockatoo, Sydney. He loves to shred/destroy cardboard, paper and soft wood. Since he tends to be destructive, it made sense to build this toy on a Stainless Steel Skewer so it can be easily refilled and replaced. There is also a stainless steel pear shaped quick link on top for easy hanging. The toy itself is layers and layers of goodies, corrugated cardboard, raffle tickets, playing cards, balsa slices, foam sheets ... each section is separated by an acrylic bead. Will have to try to get some photos in the cage because this photo does not do the toy justice. It is a very busy toy for those very Busy Beaks in your life!
We found these adorable, colorful EGG cards so have made a few of the Dagwood's with EGGs ... to add to your parrot's eggcitment!
GOOD NEWS: We were able to obtain some "short" stainless steel skewers so there are a limited amount of Dagwood SHORT available. The stainless steel skewer port is about 4" and is filled with the same goodies as the original version except smaller pieces. Cardboard, raffle tickets, playing cards, balsa, foam and a bead on the bottom! Perfect for Caiques, Conures, Cockatiels and like size birds.

Since it is Stainless Steel, food can also be used, and it's a skewer that can be used time and time again. When refilling your Dagwood, you might want to add some honey comb pieces, kraft pillow boxes (encourage foraging) and/or corrugated boxes! You're only limited by your imagination!

If your bird would love this toy but you're looking for something a bit smaller, check out Cherry on the Bottom!
Balsa Slices to refill your skewer ... available here!
Item #: 32044

Size: Original (approx 12.5" Long x 4" Wide)

Price: $16.75

Item #: 32044E

Size: Original (approx 12.5" Long x 4" Wide)

Price: $16.75

Item #: 32044S

Size: Short (approx 7.75" Long x 3" Wide)

Price: $10.75
Note: Each toy is individually handmade in the USA, colors, styles, beads and charms may vary from photograph.
As with all toys, please monitor your pets and make sure they don't actually consume non-edibles!