---

Fun Max Shred X Toys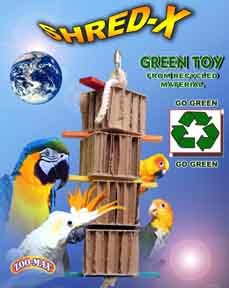 ---
Droupy
(2 sizes)

Doily-Shreddy

Jumbo Quattro-Picker

Jumbo Twin-Picker

Price: $39.00 & $65.25

Price: $69.00

Price: $39.00
Price: $21.00
---
Birdie Pizza
(3 sizes)

Big Punky-Picker

Log Shred X

Bongo Twist

Price: $10.25 to $27.75

Price: $39.00

Price: $22.25

Price: $30.00
---
Tower
(3 sizes)

Hubble

Spiral Shred X

La Tenda

Price: $21.00 to $42.00

Price: $34.50

Price: $18.00

Price: $25.50
---
Click on the photos for detailed descriptions, larger pictures and ordering information!
---
Slice Shred X
(3 sizes)

Spiral Shred X

Pelluca

Sombrero

Price: $5.75 to $18.75
Price: $13.25

Price: $16.50

Price: $14.50
---
Click here for replacement Shred X parts!
---
Shred X
(2 sizes, cotton or leather)

Baladin

Shred X Strips (refills)

Petardo

Shred X Slice Refills

Price: $6.00 to $9.75

Price: $17.25

Price: $10.25

Price: $16.50

Price: $5.50 to 7.50
---

As with all toys that have rope, sisal, fabric and curly laces, PLEASE be sure to
check the toy daily for frayed edges and keep it (and your parrot's nails) well trimmed.
---