Vine Twist T-Bar Swing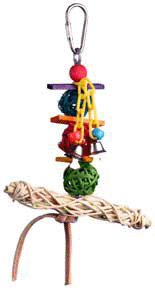 Your smaller feathered companions will love this toy that is also a swing or a great place to perch. There are three colorful mini munch balls in the center separated by colorful soft wood slats, some small plastic chain with a couple of bells on the end plus a fun natural chew on the bottom with a strip of vegetable tanned leather strips to add to the texture and chewing fun. Great toy for parrotlets, parakeets, cockatiels, small conures and like sized birds. There's a pear shaped nickel plated quick link on top for easy hanging in your 'lil tweet's cage!
Item #: 78870

Size: One Size (7" x 5")

Price: $5.75
Note: As with all bells, if your FID tends to be mechanical, please remove the clapper before giving to your avian family!