Vine Ring Tweeter Totter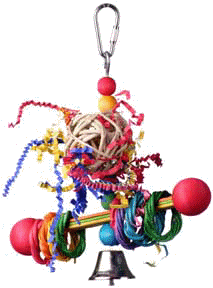 It's a swing, it's a fun place to perch, it's chewable, and there is a stuffed munch ball that you can encourage your parrot's foraging experience by added some favorite goodies (JUST fruit, JUST veggies, nuts, popped corn, etc.) inside the munch balls! The 'swing' portion is ParroPop sticks with colorful vine rings added for more motion and fun ... plus there are a couple of large wooden balls on each end for more chewing pleasure! There's a pear shaped nickel plated quick link on top for easy hanging in your 'lil tweet's cage and a bell on the bottom for a ring-a-ding good time! Great choice for the smaller beaks in your life!
For more foraging options ... click here!
Item #: 78869

Size: One Size (7" x 5")

Price: $7.75
Note: As with all bells, if your FID tends to be mechanical, please remove the clapper before giving to your avian family!