Munch Ball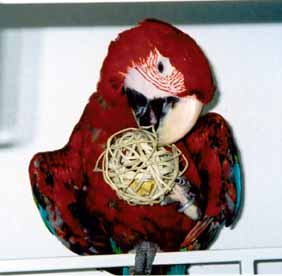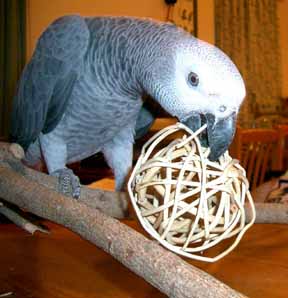 OUR FIDs LOVE THIS FOOT TOY (and so does Green Wing Macaw, Gonzo pictured above left and the young CAG pictured above right, both are working on the larger baseball size)! NOW AVAILABLE IN THREE SIZES so no birdie is left out! The MUNCH BALL has become one of our birds favorite toys!!
REMINDER: THE MUNCH BALLS ARE ALL HANDMADE SO THE SIZES WILL VARY WITH EVERY SHIPMENT!
For more foraging options ... click here!
If your parrot loves the munch balls, check out Cutie Pitootie, Fiesta Munch, Pasta Munch, Coco Munch, and the Fiesta Ball Stuffers varieties of our very popular Munch Ball foot toy!
Item #: 78741

Size: Lg (8cm=baseball size)
8 centimeter = 3.149 inch

Price: $1.75 ea

Item #: 78675

Size: Small (4 cm = golf ball size)
4 centimeter = 1.574 inch

Price: $ .75 ea

Item #: 78596

Size: Mini (Natural) (2 cm = marble size)
2 centimeter = 0.787 inch

Price: $ .50 ea

Fill with YOUR parrots favorite treats (Pine nuts, pistachios, uncooked pasta, dried peppers, coconut fiber, shredded paper, peanuts, leftover pre-loved pieces of toys, etc.). Or you can give it as is and watch the fun! So keep several on hand so you don't disappoint your FIDs!