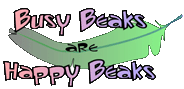 Dressed to Trill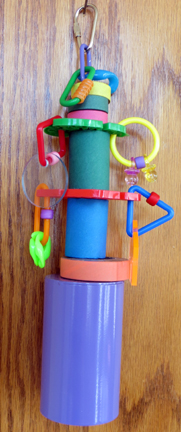 For your feathered family that LOVES bells comes Dressed to Trill! Available in three sizes so there is one for almost every birdie and the clappers inside of the tube bell portion is almost impossible to take out by even the most ambitious beaks! The base of the toy is a birdie safe tubular bell. There are different sizes of birdie bagels added for shredding fun, plastic pieces for beak pleasing pleasures There is a lot of movement, motion and textures in this heavy duty toy. There is a nickel plated pear link on top for easy hanging ... the chain is easily refillable with more goodies after these are enjoyed.
Note: it's the large bell that is photographed above.
Item #: 32010S

Size: Small (1" diameter tube,
2-7/8" length of tube, 9"total length).

Price: $9.25

Item #: 32010M

Size: Med (1-1/4" diameter tube
2-7/8" length of tube, 9-1/4" total length).

Price: $11.75

Item #: 32010L

Size: Large (2" diameter tube
3-1/2" length of tube, 9-7/8" total length).

Price: $14.25
Each toy is individually handmade in the USA, colors, styles, beads and charms may vary from photograph.
As with all toys, please monitor your pets and make sure they don't actually consume non-edibles!