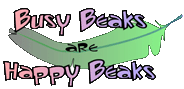 Ducky Tug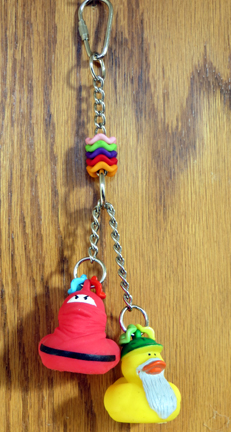 Here's a fun, push me, pull me toy for your smaller to mid sized parrots. There are two colorful rubber duckies with a couple petite ruffled beads for added texture (approximately 1.75" tall x 1.5" wide x 1.75" depth) hung on chain through an "O" ring on top so it can be easily pulled from one side to the other. The top has several colorful, frosted ruffle beads for added beak pleasing fun! All the metal (chain, "o" rings and quick link) in this toy is nickel plated.
Item #: 32008
Size: 1 Size (9.5" L x 3.5" W)
Price: $4.75
Each toy is individually handmade in the USA, colors, styles, beads and charms may vary from photograph.
As with all toys, please monitor your pets and make sure they don't actually consume non-edibles!