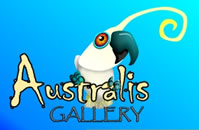 ART BY LUDO

Ludovic (Ludo) Collingwood was born in France and moved to Australia as a young boy, where he currently resides.
Ludo has built his career as a full time artist since 1985. Concerned about the depletion of native species and habitats both in his homeland of Australia as well as in America, Ludo has focused his work on wildlife.
Passionate about nature, Ludo is also a keen photographer and birdwatcher. These close observations of living creatures and the natural environment enable Ludo to produce the most intricately detailed oil paintings that accurately depict the animals and birds physiology and unique characteristics. Ludo then uses the actions and interactions of the subject characters to convey certain contemporary messages dear to the artist's heart and reflect his subtle, yet poignant sense of humor.
For more information, check out http://www.australisart.com.au

FREE SHIPPING (Contiguous U.S. Only) ON LIMITED EDITIONS! (We charge actual shipping costs less $15.00 for International and others.)
---
Click on the photos for detailed descriptions, larger pictures and ordering information!
---
| | | | |
| --- | --- | --- | --- |
| | | | |
| Aussie Orchestra Note Cards | Eclectus Trio Note Cards | So Am Symphony Note Cards | Assorted Note Cards |
| 6 cards $15.00 | 6 cards $15.00 | 6 cards $15.00 | 2 each style (6 total) $15.00 |
---
LIMITED EDITION
Sanoran Symphony
Signed by Artist

LIMITED EDITION
Wild Wild West
Signed by Artist

LIMITED EDITION
While I Was Out ...
Signed by Artist

Ekkie Print

Size: 29" W x 18" H
Price: $150.00

Size: 29" W x 18" H
Price: $150.00

Size: 29-1/2" W x 19-1/2" H
Price: $175.00

Size: 12-1/2" W x 17-3/4" H
Price: $30.00
---