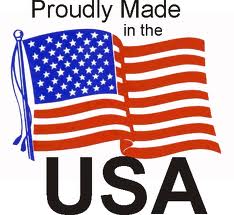 Gamma Lids
(6 Colors)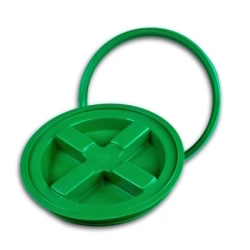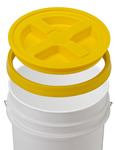 We use these everywhere. We put our whole nuts into them for the parrots (even the most ambitious squirrels haven't been able to chew through these lids in NINE years of use). I use them in the kitchen for flour, rice and dried beans. Great for storing wild bird seed or supplies for your garden. We use them for easy transport of parrot, dog, horse and cat food when we're traveling and keep empty buckets in our horse trailer to store left-overs after a show. No more cleaning out the tack room from spilled seed, grain or treats! These are absolutely the best and we have decided to offer them to you! We purchase the 5 gallon paint buckets (FOOD GRADE) at Lowe's, Home Depot, Wal-Mart, etc. but these lids will fit all standard 3.5 gallon, 5 gallon and 7 gallon pails and buckets.
Gamma lids keeps your food fresh!
Airtight seal protects the contents!
Easy spin on/off lid
Made of High Density Polyethylene (BPA Free). The Gamma Seal Lid converts a plastic bucket or plastic pail into a unique reusable plastic container. These Heavy duty bucket lids are made of high density polyethylene (HDPE) Food Grade Plastic material, which creates a leak-proof and completely airtight seal. Easy to install with a rubber mallet (or stand on it). Just a light tap on the inner adapter ring with your mallet and the lid is installed. (Instructions included.) The Gamma bucket lid includes a long-life rubber gasket already installed on the screw top inner cover. All Gamma bucket lids meet FDA standards for food grade products.
Item #: 99950

Size: One Size

Price: $14.50