Seed Corral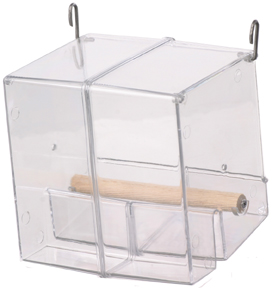 No muss, no fuss!! Keep your seed corralled with this handy seed corral designed for the smaller and mid-sized beaks (Amazons, Greys and like-sized parrots) in your life!

Mess Free
Saves food
Ideal for any size parrot cage
Perch position keeps poop out of food
Sturdy Polycarbonate plastic
Dishwasher safe
Removable perch
Comes with two hooks
Dishwasher safe. To wash, remove feeder from cage, empty out contents, and wash thoroughly in warm soapy water, or place in dishwasher. Use a small soft-bristle brush, if necessary, to remove dried-on messes. Rinse thoroughly and dry completely before placing back in the cage.
Item #: 63203

Size: Small (5" x 5" x 4")
1/2" Perch Diameter

Price: $18.75

Item #: 63204

Size: Large (9.75" x 8.5" x 9.75")
1.25" Perch Diameter

Price: $62.25