Rollie Pollie
(2 sizes)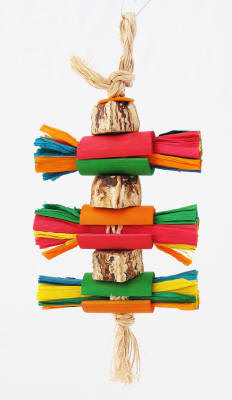 The Rollie Pollie is made of mahogany pods, colorful corn husk, bamboo and Abaca. It can be used as a foraging toy by hiding treats in the corn husk bundles. Photos don't do this toy justice ... it has many layers and textures for your feathered family to enjoy! Topped with a natural Abaca loop for easy hanging.
Please remember that all Planet Pleasures toys are handmade so it's normal for the sizes vary a bit.
Item #: 77278

Size: Small (9" L x 5")

Price: $8.00

Item #: 77279

Size: Large (13" L x 6.25")

Price: $12.00

As with all toys that have rope, sisal, fabric and curly laces, PLEASE be sure to
check the toy daily for frayed edges and keep it (and your parrot's nails) well trimmed.