Puff Ball Hats
(2 sizes)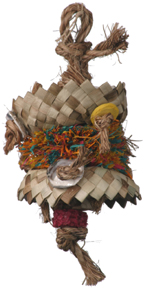 These are adorable. Woven hats, sisal, shells, fiber ... a great toy to encourage foraging behaviors!
Please remember that all Planet Pleasures toys are handmade so it's normal for the sizes vary a bit.
Item #: 77249

Size: Small (12" x 4.5")

Price: $7.50

Item #: 77250

Size: Medium (15" x 6")

Price: $11.50

As with all toys that have rope, sisal, fabric and curly laces, PLEASE be sure to
check the toy daily for frayed edges and keep it (and your parrot's nails) well trimmed.