House of Treats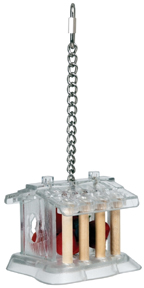 Constructed of Clear, Polycarbonate Plastic this forager makes your parrot think! This engaging foraging toy offers birds a rewarding dental workout. House of Treats provides a chewing challenge sure to keep even heavy chewers occupied for hours. Your bird will need to chew through a row of small and large natural wood dowels to access the included colorful wood pieces or hidden treats you provide. Shatter-resistant, super-tough polymer construction affords your bird the most inviting view of all the treasures inside. Replace worn dowels to use this fun toy over and over again!
Also, check out the Foraging Ball with Bell, Capsule, Food Tumbler, Wheel, Generation II Wheels, Carousel, Push & Pull, Paddle Wheel, Foraging Ball & Kabob, and See Saw foragers!
For more foraging choices!
Item #: 63232
Size: One Size (10" x× 4" x 4")
Price: $18.75