Foraging Ball with Bell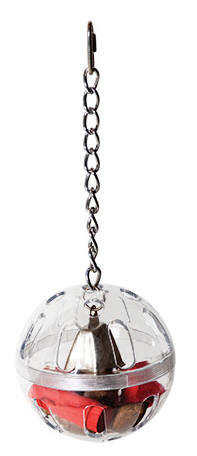 Constructed of Clear, Polycarbonate Plastic this forager makes your parrot think! Keep your feathered family mentally and physically active with challenging and stimulating activity that rings in the fun! Foraging Ball with Bell tolls merrily as your pet bird tries to fish out treats you place inside. Fill polycarbonate foraging ball with small treats, food pellets or chewable shreddable toy pieces to get the fun started. This hanging foraging toy doubles as a pleasant noise maker to engage your parrots for hours. Each ball twists open for easy filling, includes quick link for easy hanging (ball is dishwasher safe too).
Also, check out the Capsule, Food Tumbler, House of Treats, Wheel, Generation II Wheels, Carousel, Push & Pull, Paddle Wheel, Foraging Ball & Kabob, and See Saw foragers!
For more foraging choices!
Item #: 63192
Size: One Size (10.5" x× 3.5" x 3.5")
Price: $15.00