From the makers of Poop Off!
This custom made mini light clearly reveals urine, feces and cat spray invisible to the naked eye. Works on carpet, flooring, concrete, walls, mattresses and furniture. Using a blacklight in a darkened room will make any urine stain glow. You will know where to clean and you will be able to check to make sure you cleaned the urine spot completely.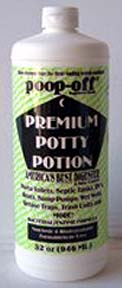 Unlike enzyme based cleaners, Superior Stain & Odor is formulated to target human and pet urine. It will remove pheromones, the sticky mucous left in dog marking and get out the toughest stains and odors. Once you apply the product, do NOT reapply before two weeks. Adding more product before two weeks will stop the product from digesting the problems you are attempting to remove. If after two weeks the problem still exists, then you need to get the liquid to the source of the problem. Treat with Poop-Off Superior Stain and Odor Remover.
We love our cats, but when they stop using the litter box and have messes it's time for serious action. No product works faster to get cats back to using the litter box and remove messes from urine, vomit, hair balls, feces, marking scents and cat spray than Dumb Cat (hate the name, love the product). You do not wipe this product up after applying. Let it air dry. Like with Superior Stain, you do NOT add more liquid before two weeks after initial application.

Potty Potion is America's most effective digester. Just a few ounces are necessary to control a septic tank or other area where digestion is necessary. Boat owners are amazed at how many days go by without the smell coming from the head. The pleasant fragrance last for days while the bacteria digest solid and liquid waste. You will not find a better product anywhere.
Item #: 62006 Superior Stain

Size: 32 oz

Price: $12.50

Item #: 62004 Potty Potion

Size: 32 oz

Price: $11.50

Item #: 62009 Mister

Size: 16 oz

Price: $6.00