Poop Off

Poop-Off ® is the number one recommended bird dropping remover in the world. Three years to formulate and three years of testing were needed to guarantee a safe product around all avian species. The product is so safe it is used by the world famous San Diego Zoo, respected avian breeders and bird lovers. Poop-Off ® contains no-contents that have been found to be dangerous to birds such as chemicals, solvents, orange oil, detergent, citrus fragrances, alcohol or bleach. Safe to use with the bird inside the cage. Non-Toxic & Bio-Degradable.

We recommend you use the 16 oz bottle with brush to apply Poop-Off liquid. The custom made brush when used on perches, cages, carpet, walls, furniture and clothing will instantly dissolve bird poop and associated stains. Removes bird droppings from all types of bird diets. Without the Poop-Off brush the liquid is safe for use on painted surfaces. Refill the 16 oz brush bottle from larger sized quarts and gallons.

Control flow brush head assures even application and reduces product usage. Our very pleasant product fragrance has been tested to be safe around all breeds of birds and helps to control cage smells. Pre-spray clothing before wash to remove even the toughest stains.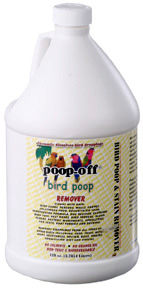 No cage should be without it, where there's POOP, you should have Poop-Off! Instantly dissolve bird poop and associated stains. Safe for use on painted surfaces, walls, and carpeting. Control flow brush head assures even application on perches & cages.
Non-Toxic & Bio-Degradable. Poop-Off Product Label in PDF
Item #: 62001

Size: 16 oz w/brush

Price: $11.50

Item #: 62002

Size: 32 oz w/sprayer

Price: $16.25

Item #: 62003

Size: Gallon Refill

Price: $50.00

Item #: 62009 Mister

Size: 16 oz

Price: $6.00