Slats of Fun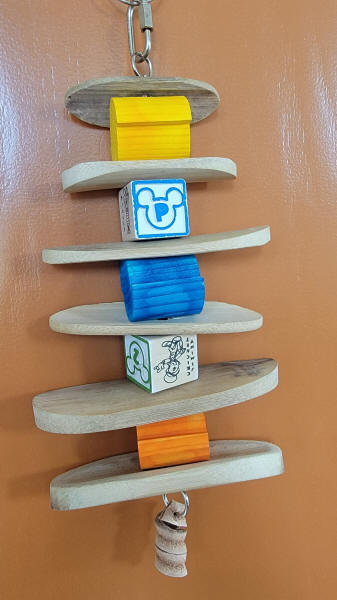 Slats of Fun is strung on bird safe, welded, nickel plated chain and has alternating sizes of shredable bamboo slats with infinity and alphabet blocks as separators. There is a fun, curly vegetable tanned leather spirng on the bottom for added texture and beak pleasing fun. There are two nickel plated "O" rings attached to the chain with a quick link on top for easy hanging. This is sized for most mid-sized beaks ... bamboo is very shredable and sort of peels so fun for birds those who prefer softer woods but it's a more durable.
Item #: 32166
Size: One Size (12" x 6")
Price: $12.00
Note: Each toy is individually handmade in the USA, colors, styles, beads and charms may vary from photograph.
As with all toys, please monitor your pets and make sure they don't actually consume non-edibles!