Safari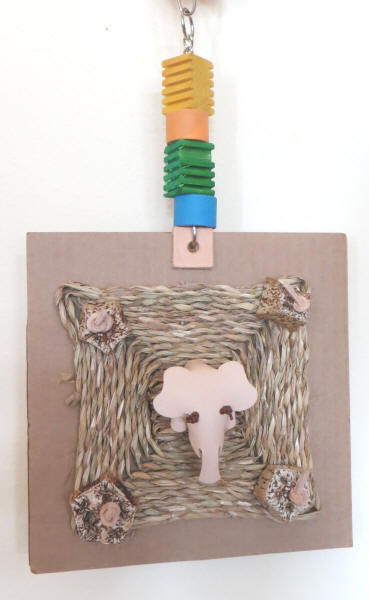 Safari focuses on the fun, chewable, 3D leather elephant head in the center of the 6" square sea grass mat. All leather on this toy is USA processed vegetable tanned leather! The sea grass mats (front and back) are attached to an 8" square cardboard piece for added stability and beak pleasing fun! There are mahogany slices on all four corners (front and back) that are secured with leather strips. There are 1" leather squares on the back holding the elephant head to the mat and on the top where the nickel plated "O" rings attached to the chain ... with a pear shaped quick link on top for easy hanging. For added beak chewing fun, there are a couple of groovy blocks and bitty bites covering the chain. Great for the mid-sized beaks in your life!
Item #: 32149
Size: One Size (approx 14" Long x 8" Wide)
Price: $16.75
Note: Each toy is individually handmade in the USA, colors, styles, beads and charms may vary from photograph.
As with all toys, please monitor your pets and make sure they don't actually consume non-edibles!