Chompin' Curves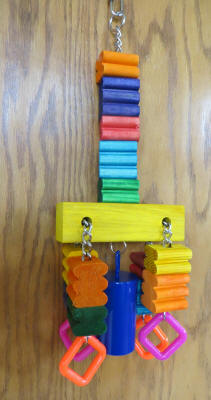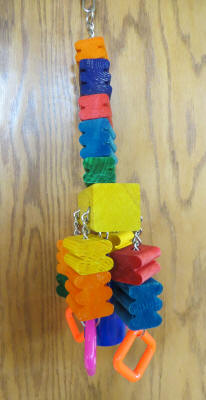 Chompin' Curves is a mega beak toy that is built on very heavy duty 3.0mm nickel plated welded chain, There are 5 colorful, pine curvy blocks on the top (alternating double and triple curvy blocks) with large size tube bell on the bottom. The cross bar is a chunky, colorful piece of pine that is 6" x 1.75" with a couple legs on each side. These are also hung from 3.0mm chain for durability and there are a couple curvy blocks per leg (total of 13 fun opportunities to shred). There are 2" square hard plastic marbella type pieces to finish off the legs. There's a wide jaw quick link on top for easy hanging and 16mm and 19mm "O" rings to easily connect the quick link and fun squares. This toys was designed for the destructive beaks in your life like Molluccans, large macaws (including Green Wings and Hyacinths). Also works well with smaller birds like Major Mitchells, Galahs and some Indian Ring Necks who tend to be super buzz saw beaks.
Item #: 32146
Size: One Size (approx 19" x 6" )
Price: $39.50
Note: Each toy is individually handmade in the USA, colors, styles, beads and charms may vary from photograph.
As with all toys, please monitor your pets and make sure they don't actually consume non-edibles!