Skewered Clown
(on 10" Stainless Steel Skewer)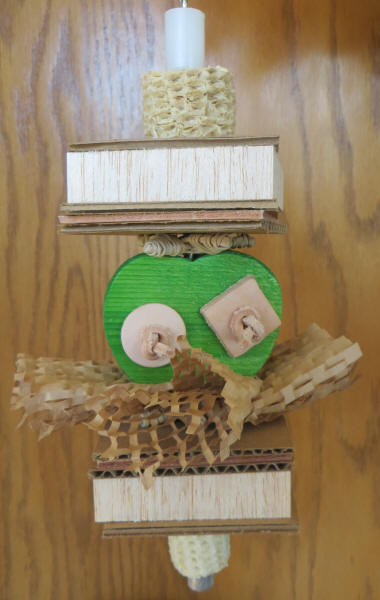 Skewered Clown is built on a 10" stainless steel skewer and topped with a pear shaped quick link so when this toy is lovingly destroyed ... you can rebuild or even use food on it. Since we are personally owned many companion parrots, we love extended life or refillable toys! This has lots of fun components including .75" thick x 3" square balsa chunks, colorful pine face with 1" leather shapes for eyes & tied with leather strips. There are woven stars for a hat, corn cob on top & bottom, natural kraft color, razor paper for a ruffled (collar), a couple layers of heavy duty 3" x 3" leather squares separated by 3" x 3" corrugated cardboard. Lots of textures and chewing fun! Balsa is a soft wood so this is not a good choice if your bird is a mega destroyer! The thicker size balsa does make it a good choice for most parrots that enjoy shredding softer wood. The pine (green) head is a more durable wood and the leather eyes add to the tongue teasing fun. Needless to say. the stainless steel skewer can be used time and time again! You can never have too many skewers ... we use them for everything in our house from making quick toys or layering veggies & fruit. Put your imagination to use!!
Item #: 32129
Size: One Size (approx 12" Long x 3.5" Wide)
Price: $17.75
Note: Each toy is individually handmade in the USA, colors, styles, beads and charms may vary from photograph.
As with all toys, please monitor your pets and make sure they don't actually consume non-edibles!