Cosmos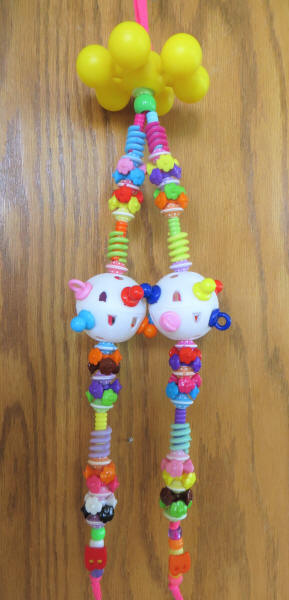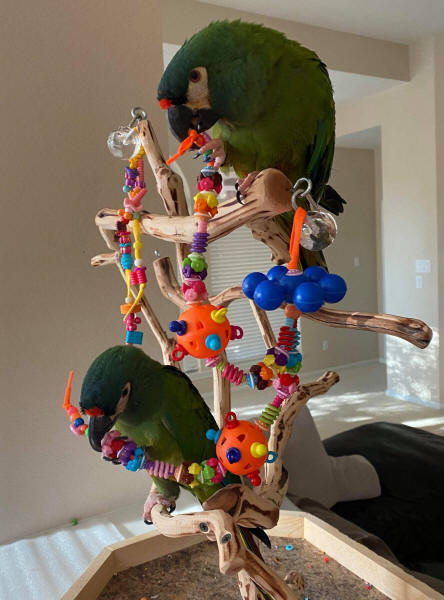 Cosmos reminds us of spaceship (star) and moons (aliens) landing. Great fun to be had that starts with a 3.25" chunky blown star on top, kept in place by a couple UFO beads! There is lots of motion and moving beads in this fun beaded toys. It starts with a neon colored shoelace, then a UFO bead on top and bottom of the blow star. The legs are busy with ribbed tube beads that have fun corkscrew beads over the top. Separated by UFO beads & flower bud beads. Then there is a fun golf ball size whiffle ball that has pacifiers in it for added beak pleasing fun, under the golf ball, the pattern repeats and is finished off with some pony beads and the signature "B" buttons to finish off each leg.
Illiger brothers, Mac & Larry, LOVE their bead toys and occasionally even share! Cosmos should be a longer lasting beaded toy for the mid sized beaks in your house! All knots are hidden so not snip & drop!
Item #: 32122
Size: One Size (14" x 4")
Price: $10.50
Note: Each toy is individually handmade in the USA, colors, styles, beads and charms may vary from photograph.
As with all toys, please monitor your pets and make sure they don't actually consume non-edibles!