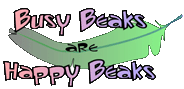 Puzzle or Raffle Ball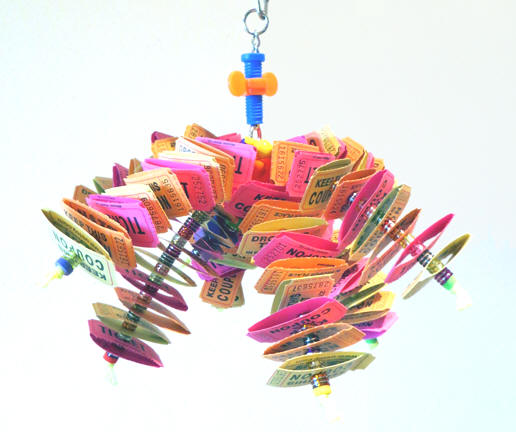 Puzzle Ball is hung from nickel plated, welded chain that is covered with a fun, chewable foam tube. The golf ball center is filled with eight (8) legs of double sided, heavy duty puzzle pieces, separated by sturdy, chunky, iridescent cube beads. There are several translucent pacifiers in between the legs on the ball for added chewing fun.
The Raffle Ball is similar to the Puzzle Ball except each set of multi colored raffle tickets are separated by fancy chunky beads, and there is a fun, moveable, mini nut & bolt on top for added interest. There are several bright, colorful pacifiers in between the legs on the ball for added, beak teasing, chewing fun.
The legs are held together with brightly colored neon laces and both are topped with a nickel plated pear link on top for easy hanging. There is lots of chewing fun in the Puzzle and Raffle Balls, either are suitable for most mid sized (Amazon, CAGs, Goffins, etc.) parrots.
We love when we have photos to share of your feathered family enjoying their toys! Amy and Josh's Illiger macaws, the brothers Mac & Larry, love beads, balsa, shredding and just plain having fun! Just more evidence that Busy Beaks ARE Happy Beaks!
Item #: 32094P

Size: 1 Size (9.5" x 8.75")

Price: $16.50

Item #: 32094R

Size: 1 Size (9.5" x 9")

Price: $16.50
Note: Each toy is individually handmade in the USA, colors, styles, beads and charms may vary from photograph.
As with all toys, please monitor your pets and make sure they don't actually consume non-edibles!