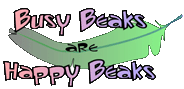 Heartsa Plenty
A fun toy for the smaller to mid size beaks in your house. Heartsa Plenty has a 2.5" x 2.25" colorful wooden heart center that is filled with fun charms like quilted and freckled hearts.. There are two heart lock pendants (one on each side), a chunky key on the bottom which is also flanked by some fun charms. The nickel plated welded chain has ruffled beads with a couple large marble type beads, and there are a couple more charms in the "O" ring that the nickel plated pear shaped quick link connects to for easy hanging! The Heartsa Plenty offers lots of chewing, motion, texture and beak pleasing fun!
Item #: 32080
Size: 1 Size (6.75" L x 2.75")
Price: $7.75
Note: Each toy is individually handmade in the USA, colors, styles, beads and charms may vary from photograph.
As with all toys, please monitor your pets and make sure they don't actually consume non-edibles!