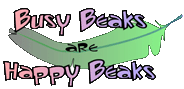 Charming

Charming is the cutest little "charm filled" toy for the smaller beaks in your house. There are three sections of two hole oval transparent buttons and charms including violins, guitar, tulips, sweet corn and hearts! Lots of interest, motion, color and fun in this smaller toy.
Unfortunately, photos do not do this toy justice ... we will have to try again.
Each section consists of one two hole oval transparent button

flanked by various charms for added texture and interest.
Item #: 32078
Size: 1 Size (6.25" L x 1")
Price: $5.75
Note: Each toy is individually handmade in the USA, colors, styles, beads and charms may vary from photograph.
As with all toys, please monitor your pets and make sure they don't actually consume non-edibles!