APRIL IS SHARE THE LOVE!!

The entire month of April, 2018, when you order any products to be drop shipped to a verified U.S. 501(c)(3) non-profit rescue or sanctuary, we will match your donation. So if you order $25, we will ship them $50 in products! We will enclose a packing slip with your name and mailing address and you will receive a tax deductible receipt for your donation from the recipient.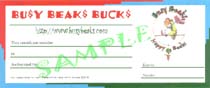 Rescues and/or sanctuaries typically have a "wish list." If you're unsure what to give them, ASK THEM what they need or give them a Busy Beaks Buck$ gift certificate and let them choose their own. (Yes, we will still match the amount of the gift certificate when it is redeemed.)
Don't forget to forward this link to YOUR favorite rescue or sanctuary so they can spread the word to their own mailing list - it's a win/win! Many of them are already on file with us. Those that aren't can fax (936-344-8406) us a copy of their 501(c)(3) status along with their physical shipping address and contact information. You get a tax deductible donation, the U.S. 501(c)(3) non-profit organization gets double the goodies plus you get the satisfaction of knowing that you have helped those less fortunate while we get to share with you in the joy of giving! Thank YOU for helping us, help others!
Offer valid through April 30, 2018. This offer can not be combined with other offers, is limited to in stock items and normal shipping charges apply! Note: To maximize the shipping dollar, all orders will be combined and shipped the first part of May to all the rescues & sanctuaries.
---
Busy Beaks bird toys are veterinarian approved and loved by parrots of every size from literally all over the world. We're proud to offer Aronico, Art by Ludo, Bell Plastics acrylic bird toys, Bizzy Birdy Playthings, Busy Beaks Toys, DVDs and books by Barb Heidenreich plus other published authors, and Cage 'n Queen, Caitec, Feathered Phonics, Featherland Toys, Fun Max Bird Toys (Zoo Max), Happy Beaks Toys, JUST Fruit and Veggies, Life's Great Products, Poop Off (be sure to check out Poop Off Wipes), Mighty Bird Toys, Molly's Bird Toys Nature's Instinct, Petscape Bagels & Bogglers, Paradise Bird Toys, Planet Pleasures, Polly Wanna Pinatas, Scooter Z's, Super Bird Creations, and Wesco Bird Kabobs. Whew ... and so much more ...
Busy Beaks are Happy Beaks™!
---
Check out our GIFTS and ACCESSORIES!
For a special occasion or for great gift ideas just out the whimsical bottle neck climbers, bottle holders like the Parrot, the whimsical corkscrews and coasters too! Unusual items for those FID (feathered or furry kids) lovers in your life on our gift & accessories page!
---