LuLaRoe Leggings Grab Bag
Two Sizes
OS (one size) 2-12
TC (tall & curvy) 10-22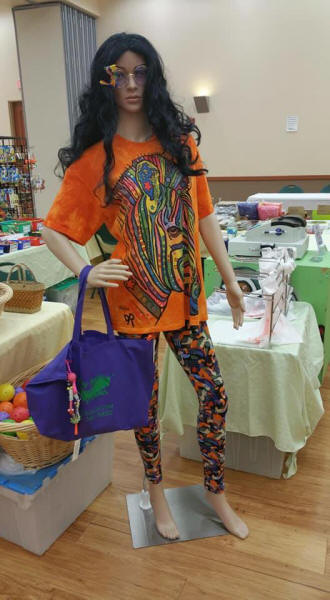 If you've never tried LuLaRoe Leggings, now is the time. They wash well, store easily, are buttery soft, have a yoga type waist band, no side seam and ankle length. With winter coming, they are great for layers. Make for super jammies too, they are that cozy. You will love them.
LuLaRoe Leggings are super comfortable (and very figure forgiving). Our model, Anita Macaw, is also modeling The Mountain® t-shirt ... click here!
We typically don't sell these on the website but take them to shows to give our shoppers something different for themselves or for gifts. With COVID-19, all of our shows have been cancelled so we have a large inventory from which to choose. Since we can not photograph everything, we are offering a grab bag at a discounted price. Just tell us what size (one size or tall and curvy) and we'll choose for you ... SURPRISE! There are NO SOLIDS available, everything is a print. If you have a background color preference, put that in the special instructions along with any requests ... we will do our best. Retail price is $25 ... but for the GRAB BAG, we're offering them for $20.
Item #: LLR-OS

Size: One Size (2-12)

Price: $20.00

Item #: LLS-TC

Size: One Size (10-22)

Price: $20.00