Vasa madda you?
My Adventures with Maddie, A Greater Vasa Parrot

The journey began in August of 2000, as I boarded a plane to the City of Angels ~ Los Angeles, CA, to attend the American Federation of Aviculture convention. Little did I know what fate had in store for me.

Every year the AFA has a special set of super raffle prizes. Not being a very lucky person, I bought only a few tickets, including several for a baby Greater Vasa Parrot. That Saturday night at the banquet, they drew the names of the winners of each prize. I sat speechless when my name was announced as the winner for the baby Greater Vasa Parrot from Madagascar! My friends had to prod me, saying, "Lisa, that's you!" Well, shut my mouth!! It was!!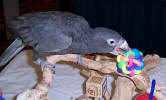 As soon as I returned home to Colorado, I contacted the breeder and arranged for my Vasa to be flown to me. My husband and I waited at the special baggage counter for "her" to arrive. Soon she did and we peered in to the carrier at this big gray bird with a huge beak, staring back out at us.

Her large cage was ready for her at home, with lots of toys to interest her and keep her happy. In preparing for her arrival, I read all I could find on Greater Vasas, which was not a lot! I learned that they are very curious and active and need plenty of room; they love to bathe and bask in the sun. Her cage is situated with half of it in our front west-facing window, with a view of the yard with trees and bushes and squirrels and birds; the other half shaded from the afternoon sun.
Next on the agenda was to decide on a name. Several suggestions were made, such as Ming, so she would be Ming Vasa. Eventually it was decided she would be called Maddie, as in "Vasa madda you?" Yes, we have a warped sense of humor. And as it turns out, so do Vasas!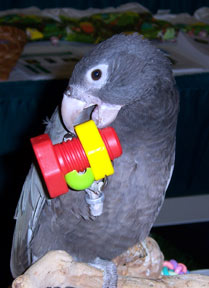 Maddie was a bit standoffish when she arrived, at only 2 months old. Vasas are a primitive parrot. They breed differently than other parrots, they can have a very "liquid whistle," they are extremely intelligent and usually outgoing. It took Maddie a while to settle in and get to know us. Now, 5 years later, she thinks the house is hers and likes to tell the other birds what to do. She has a large vocabulary and likes to repeat things. The voice is almost like a little kitty voice – not what you would expect out of a large bird. Maddie has a large cage with a playstand and a play tree outside her cage and lots of toys from which to choose. Vasas seem to be drawn to things that are in the red, pink or orange color range. I've never seen her afraid of a new toy that is not bigger than she is. She stays busy all day, playing with lots of foot toys mostly. If she hears someone else drop a toy on the floor, she will get down and run across the floor to steal it and take it home with her. Lately she has been invading Leo's cage. Leo is a Congo African Grey who is mildly agreeable, but is not always in favor of Maddie playing with his toys. Maddie seems to be even more interested in Leo's cage now that we are into the "breeding season" and hormones are raging.
Not to be ignored or left out, Maddie will often climb down stairs to the den to come visit us. All of a sudden, we will see her on the floor in front of us. Our Scotties are used to this and tend to ignore her or give her a wide berth, as she weaves her way through them to get to where ever she wishes to go.

Maddie seems to love to go to our (Rocky Mountain Society of Aviculture) Bird Marts where she has a place in my booth to play with her toys (she LOVES foot toys) from the Busy Beaks booth and acquaint people with this unusual bird from Madagascar. She is usually willing to step up for people she has just met ... as long as they don't have on a hat! I think that is the only thing I've found that she is afraid of.
I can't imagine life without Maddie. She is too smart for her own good, loves to take things apart, and loves to be cuddled. Just about all the things one would wish for in a bird!
Lisa