Pirate Chest Parrot Bottle Holder
with Bottle Topper
(Bottle NOT included)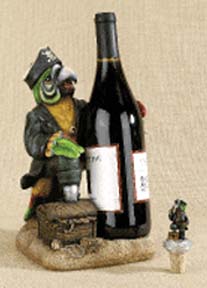 Colorful, cheery, bright, fun! Family, friends, a bottle of wine and a whimsical parrot, pirate chest wine holder will bring fun to any occasion! This very happy pirate parrot comes with a cork bottle topper which is another matching parrot holding a bottle! Just too cute for words. The brightly colored parrot waiting to put his/her wings wrapped around a bottle for safe keeping! Even if you aren't a wine drinker, use it as a bottle holder for flavored vinegars or decorative oils! Fabulous gift idea ... even for yourself!
A perfect addition to your bottle holder collection and a great gift for guaranteed grins & giggles!
---