Balsa Springs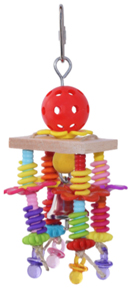 Balsa Springs is a super fun toy from Super Bird creations. So many birds LOVE BALSA ... and there is a lot happening in this little bird toy. There are four legs filled with ridged tube, corkscrew, gear and pacifier beads. There's a quick link on top for easy hanging and a bell on the bottom for a ring-a-ding good time! Perfect for Parrotlets, Parakeets, Cockatiels, Lovebirds and like sized birds.

Item #: 79012

Size: One Size (6.5" x 2.5")

Price: $9.25
As with all toys, please monitor your pets and make sure they don't actually consume non-edibles!
If your FID tends to be mechanical, please remove the clapper before giving to your avian family!