Basket Case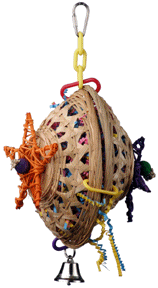 What a fun toy for your small to mid sized beaks ... a couple woven baskets held together with parrolinks, filled with shredded paper (use your imagination and stuff some of your parrots favorites inside to encourage foraging behaviors), wove stars, colorful balls, with a plastic chain topped with a nickel plated pear shaped quick link for easy hanging. A bell on the bottom adds to the ringing good time for mid sized beaks!
All handmade with natural materials so sizes may vary slightly.
For more foraging options ... click here!
Item #: 78892
Size: 1 Size (10-1/2" L x 6" W)
Price: $14.50
Note: As with all bells, if your FID tends to be mechanical, please remove the clapper before giving to your avian family!