Rainbow Bridge
(now in 3 sizes)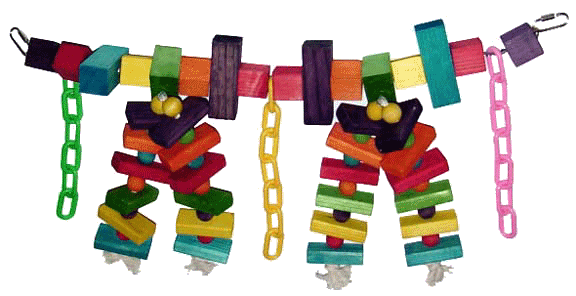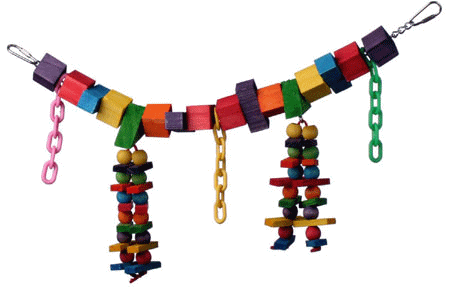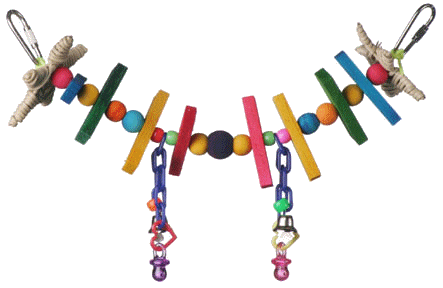 Our parrots LOVE bridges! We take a few of our ladders and turn them into bridges since they love to have different surfaces to walk on (and chew up). This colorful address is filled with software blocks and rectangular blocks, all strung on nickel plated welded chain with quick links on both sides for easy placement. There are three 10" pieces of colorful, plastic #8 chain for added texture and an eye hook in two pieces of pine that have a dozen 3" x 1-1/2" x 5/8" rectangle pieces of pine separated by a dozen, colorful hardwood balls all strung on 100% cotton rope. This is a sure winner for almost every size companion parrot in your house!
Now in THREE sizes so there's the perfect size for every birdie!
Item #: 78568 (Reg)

Size: Reg (28" L x 14" W x 4" D)

Price: $58.75

Item #: 78756 (Jr)

Size: Jr (18" L x 7" W x 2" D)

Price: $21.50

Item #: 78847 (Mini)

Size: Mini (9" L x 2" W x 2" D)

Price: $9.50

As with all toys that have rope, sisal, fabric and curly laces, PLEASE be sure to
check the toy daily for frayed edges and keep it (and your parrot's nails) well trimmed.