Four Play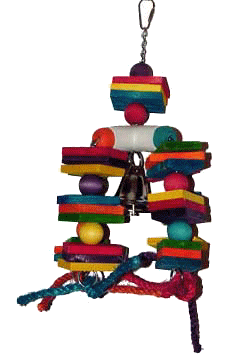 Colorful, fun, chewy, lots of motion and even a bell ... what fun! The center of this toy is a four way piece of PVC which has nickel plated welded chain running through it so you have four legs of chewing fun with a bit of colorful sisal on the ends for added texture. Each leg starts with a hardwood ball, then 3 colorful 2" slats, then another ball, more slats, etc. There's twelve pieces per leg or 48 pieces of chewing fun on the four legs plus a couple more on top with even more slats. The regular is sized for your smaller to mid-sized parrots! Nickel plated quick link on top for easy hanging. Lots of beak chewing fun in this Four Play from Super Bird Creations!
Item #: 78567
Size: Reg (12" L x 5" W x 5" D)
Price: $28.00

As with all toys that have rope, sisal, fabric and curly laces, PLEASE be sure to
check the toy daily for frayed edges and keep it (and your parrot's nails) well trimmed.
Remember to remove clapper from bell if your FID tends to be "mechanical!"