The Parrot Problem Solver
by Barbara Heidenreich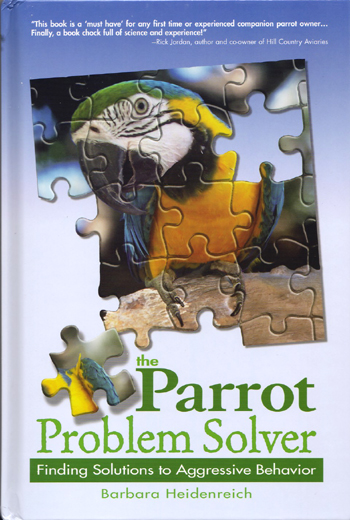 When not properly trained and socialized, parrots are prone to developing a number of behavioral problems, including aggression and self-mutilation. Many owners face these problems and the frustrations that come along with them, and find themselves desperately in need of expert advice. Barbara Heidenreich arms readers with the information they need to prevent and solve aggression problems and expertly train their feathered friend. Some of the topics include:
Wild bird behavior and how it affect the bird/owner relationship.
The best and worst ways to modify pet bird behavior.
Understanding bird body language.
Sidebars on the myths and misconceptions of keeping pet parrots.
The Parrot Problem Solver: Finding Solutions to Aggressive Behavior is a one-top resource for bird owners frustrated by problem behavior. By following the author's tips and techniques, any owner can learn how to keep a companion parrot from biting, screaming, or lunging, and turn a beastly bird into an avian angel.
Barbara Heidenreich has been a professional in the field of animal behavior since 1990. After receiving her Bachelor of Science degree in Zoology she began her career teaching birds to present natural behaviors in zoos. In her fourteen years of working for various zoos, companies, and as an independent consultant, Barbara has been involved in the production of over fifteen different free flight bird presentations. Currently the President Elect of the International Association of Avian Trainers and Educators she is now a private animal training consultant working with zoological parks, nature centers, and the companion parrot community. Barbara hopes everyone can experience that truly rewarding relationship that can happen when animals are trained using positive reinforcement.
Barbara is a professional animal trainer and founder of Animal Training and Consulting Services, which provides animal training workshops to zoos and other wildlife facilities. She has written and lectured extensively on the training of parrots. Barbara is the president of the International Association of Avian Trainers and Educators.
ISBN: 0793805627
Published: 2005
Illustrations: Color and Black/white photos
Binding: Hardcover
Item # 77813

Size: 6" x 9" 192 pages

Price: $17.00
For more Barbara Heidenreich (Good Bird, Inc.) including published articles ... click here!