Monkey Ball Preener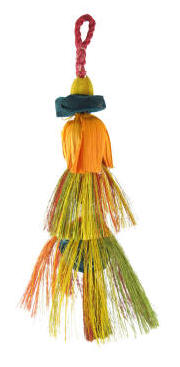 The photograph does not do this toy justice and we will attempt to get some better shots. The small has shell on the top, a woven, oyster shell, colorful corn cob and approx 1.5" monkey fist made of sturdy abaca fiber. The large size, under the fiber, has a 2" woven ball filled with shredable goodies and on the bottom is a large (approx 2" diameter) monkey fist ball made of sturdy abaca fiber (heavy duty). There's a large colorful slab of bamboo on the top plus some nut shell and colorful corn cob wheels along with some oyster shell.
Please remember that all Planet Pleasures toys are handmade so it's normal for the sizes vary a bit.
Item #: 77261

Size: One Size (11" L x 2.5" W)

Price: $9.00

Item #: 77262

Size: One Size (15" L x 3.5" W)

Price: $15.00

As with all toys that have rope, sisal, fabric and curly laces, PLEASE be sure to
check the toy daily for frayed edges and keep it (and your parrot's nails) well trimmed.