Comet
(4 sizes)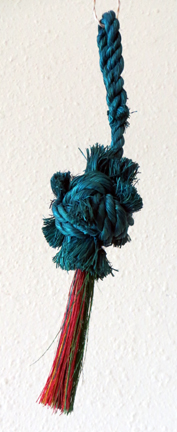 The Comet comes in four sizes so there is a size for every birdie in your house. The mini is perfect for all the smaller beaks in your house ... it has a small monkey fist type knot and natural fibers for added texture. The small through large as similar to one another except component gets progressively larger. There is a fiber filled woven ball on top, a fun 3-dimensional star, a larger stuffed woven ball and the bottom is a large, heavy duty, fiber filled monkey fist!
Please remember that all Planet Pleasures toys are handmade, so it's normal for the sizes vary a bit.
Item #: 77254

Size: Mini (6.5" x 1.25")

Price: $6.00

Item #: 77255

Size: Small (7.5" x 2")

Price: $6.75

Item #: 77256

Size: Medium (9" L x 2.25" W)

Price: $9.00

Item #: 77257

Size: Large (11.25" x 2.75")

Price: $12.00

As with all toys that have rope, sisal, fabric and curly laces, PLEASE be sure to
check the toy daily for frayed edges and keep it (and your parrot's nails) well trimmed.