Abaca Bac-Bac Pinatas
(3 sizes)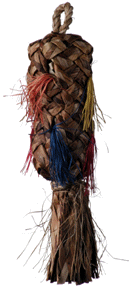 Handmade in the same fashion as the Planet Pleasures original Pinatas with abaca, making them a bit more heavy duty! Hand woven outside with a variety of natural fibers all tied to a center, handmade sisal rope. This is like two toys in one since it is stuffed palm tree twists, shredders and Abaca fibers. Hang from your FID's cage or give a smaller size as a foot toy. A little more durable, good, clean, destructive, foraging fun for every BIRDIE!

Please remember that all Planet Pleasures toys are handmade so it's normal for the sizes vary a bit.
Item #:77100

Size: Small (9" x 3")

Price: $6.75

Item #:77101

Size: Medium (11" x 3")

Price: SOLD OUT

Item #:77102

Size: Large (15" x 3.5")

Price: $13.25

As with all toys that have rope, sisal, fabric and curly laces, PLEASE be sure to
check the toy daily for frayed edges and keep it (and your parrot's nails) well trimmed.