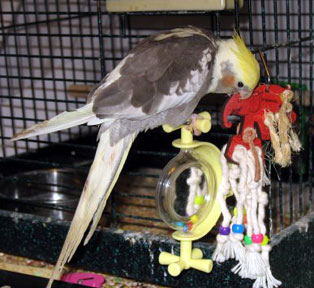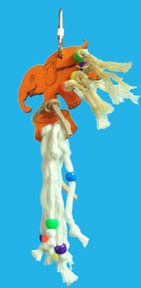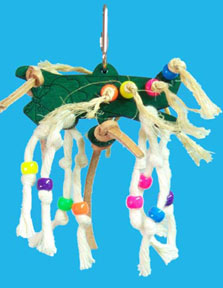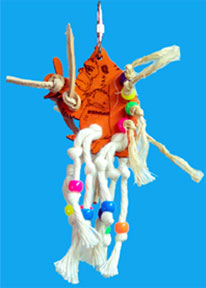 These are just perfect toys for the little tweets (perfect for parrotlets, parakeets, canary, finch, cockatiels, lovebirds and like-size birds) in your home! I couldn't make up my mind so I bought them all! They are just so cute and your feathered companion will love to nibble at the natural sisal, 100% cotton rope and vegetable tanned leather strips and whichever shape you choose is hung from a pear shaped quick link. Cockatiel, Kara, is a good example of size (while enjoying the toy).

As with all toys that have rope, sisal, fabric and curly laces, PLEASE be sure to
check the toy daily for frayed edges and keep it (and your parrot's nails) well trimmed.

Item #: 67150
Elephant

Size: XS
(6" L x 2" W)

Price: $5.50
Now: $4.40

Item #: 67164
Gorilla

Size: XS
(6" L x 2" W)

Price: $5.50
Now: $4.40

Item #: 67191
Fish (not pictured)

Size: XS
(6" L x 2" W)

Price: $5.50
Now: $4.40