Mastermind
Choice of Heart or Circle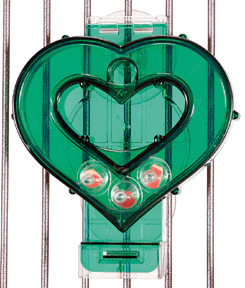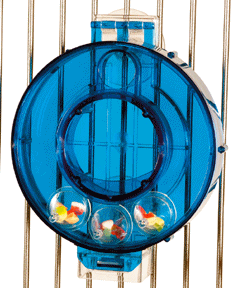 Mastermind is for your thinking parrot! Place food/treats in cone and slide notched side under the track overhang on toy (there's an indentation). The bird must maneuver cones to the top of the track until food/treats drop through the hole to the center chamber. The Heart is about 7" and the Circle is 8.5" diameter, mount vertically with access chamber at the top.
Use your imagination with this toy and put a smile on your parrot's beak!
Also, check out the Capsule, Sphere, Wheel, Carousel, See Saw, Paddle Wheel foragers!
For more foraging choices!
The Mastermind(s) arrive empty and ready for you to fill with your parrots favorite goodies. Offer only dry, healthy treat foods in these feeders, empty them often to avoid spoilage! You can wash all acrylics in one part bleach, 3-4 parts water, rinse thoroughly and air dry!
Item #: 63188 - Heart

Size: Large
7" x 8" x 3"

Price: $31.25

Item #: 63189 - Circle

Size: Large - Xlarge
8.5" x 10" x 3"

Price: $43.50