Basket Twister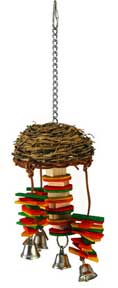 The center of this toy is nickel plated welded chain with a nickel plated pear shaped quick link for easy hanging. There's a natural woven type basket for lots of shredding fun from which there are 3 vegetable tanned leather "legs" that have many 1-1/2" x 1/2" colorful slats of soft wood and a bell on the bottom for a ringing good time. The center (under the basket) also has soft, chewable wood pieces (chunks of natural pine, circles of colorful pine and more natural slats) with a bell on the bottom for a total of 4 bells! What fun for your smaller parrots, conures, caiques and like-size birds.
Item #: 63085
Size: 1 Size (12" L x 6" W)
Price: $12.50

Note: As with all bells, if your FID tends to be mechanical, please remove the clapper before giving to your avian family!