Fuzz Ring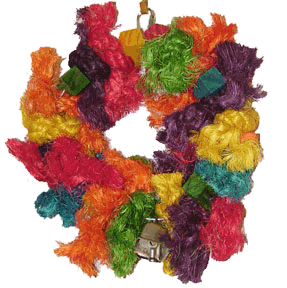 A perfect toy for those preening parrots in your house, this is a mixture of brightly colored sisal, that's great for shredding, with 1-1/2" L x 1/2" D slats of colorful, soft wood for more chewing fun! This is a great toy for those smaller to mid sized parrots who love to shred and chew! There's even a bell on the bottom for a ringing good time!


As with all toys that have rope, sisal, fabric and curly laces, please be certain to check the toy daily for frayed edges and keep it well trimmed.

Item #: 63051
Size: One Size (7" Diameter)
Price: $7.50
Note: As with all bells, if your FID tends to be mechanical, please remove the clapper before giving to your avian family!