Block Buster
(now in 2 sizes)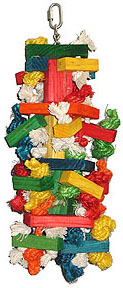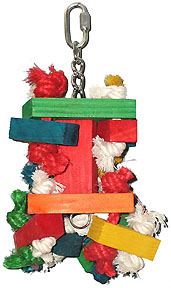 This toy is actually strung on chain with 3 separate block sections from which there are more colorful wooden blocks attached with natural 100% cotton rope and colorful sisal knots. The Block Buster will keep those mega Busy Beaks in your house busy for quite some time! Sized for the larger birds, this is a great addition for their chewing enjoyment!
You now have a choice, if you'd prefer the same toy, but not as long, choose the short version! Same great toy, perfect for smaller areas like travel cages and play stands!

As with all toys that have rope, sisal, fabric and curly laces, PLEASE be sure to
check the toy daily for frayed edges and keep it (and your parrot's nails) well trimmed.

Item #: 63002

Size: Large (15" L x 6" W)

Price: $27.50

Item #: 63033

Size: Short (12" L x 6" W)

Price: $12.50