Bell Chime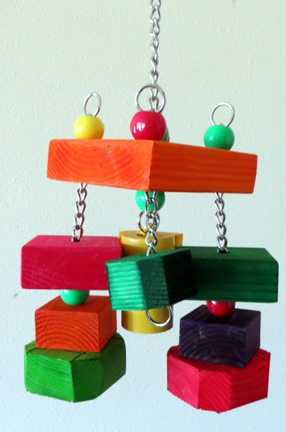 Bell Tower is one BIG, hefty toy, strung on nickel plated welded chain. There is a 5.5" colorful, square wooden top that is 1.5" thick! Sized for those destructive beaks in your house. There are four legs (also nickled plated welded chain) that have big hunks of colorful, shredable wood with some fun hard plastic 1" beads. There is a huge (3.5" x 2" Diameter), powder coated tube bell in the center for a ringing good time. This toy is made for those LARGE, destructive beaks in your house!
Item #: 53019
Size: One Size (18" x 8")
Price: $78.00
Note: As with all bells, if your FID tends to be mechanical, please remove the clapper before giving to your avian family!