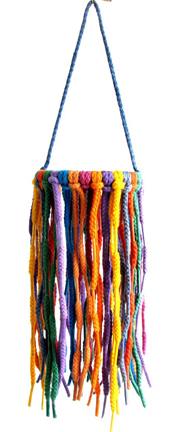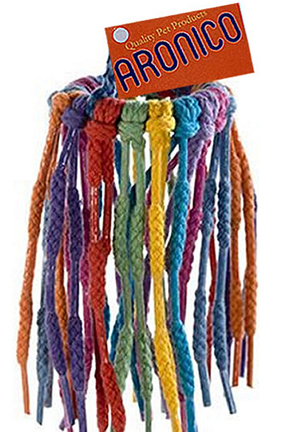 If your parrot loves shoelace "tips" (aka aglets) then this toy is for you! These shoelaces don't just have aglets on the ends of the laces ... they have them spaced throughout the lace! This fun toy comes in two sizes so put a smile on your parrots beak and get the Aglet Heaven for beak pleasing fun!
Our parrots LOVE Aglets ... so we use this toy as a base for some of our homemade toys and add lots of beads to it! If your parrot loves aglets and beads ... use your imagination and watch the fun!!
Item #: 51214

Size: Small (9" x 2.5")
2" Ring with 5.5" Laces

Price: $10.50

Item #: 51213

Size: Large (14" x 4")
4" Ring with 8.25" Laces

Price: $16.25

As with all toys that have rope, sisal, fabric and curly laces, PLEASE be sure to
check the toy daily for frayed edges and keep it (and your parrot's nails) well trimmed.