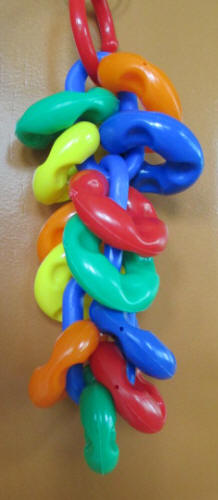 Our parrots LOVE the soft, chewable parrot donuts so what can be better than an entire toy built with parrot donuts (they make great foot toys too)?!? So we have two sizes, the medium Donut Delight is built on 3" solid plastic chain and has 12 parrot donuts (easily refilled). The large is built on very heavy duty, solid 4# plastic chain and has a whopping 24 parrot donuts. Both are topped with large, plastic clips for easy hanging.

Item #: 32158M

Size: One Size (approx 10.5" Long x 4" Wide)

Price: $12.50

Item #: 32158L

Size: One Size (approx 15" Long x 4" Wide)

Price: $26.50
Note: Each toy is individually handmade in the USA, colors, styles, beads and charms may vary from photograph.
As with all toys, please monitor your pets and make sure they don't actually consume non-edibles!